Alvan Fisher was a Boston painter who studied decorative painting on furniture with John Ritto Penniman early in his career. He aspired to paint pictures, however, and worked hard to shake off that "mechanical, ornamental touch." By 1816 Fisher was producing scenes of stables and barnyards that were novel at that time and showed his skill in painting animals and the effects of light. He had enough portrait commissions as well to enable him to make an adequate living and to become well established in the Boston artistic community.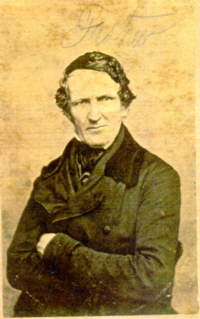 The Pennsylvania Academy of the Fine Arts first exhibited Fisher's work in 1817. Later his work was shown at the National Academy of Design, where he was elected an honorary member in 1827, and at the Boston Athenaeum.
Throughout his career, Fisher traveled extensively along the east coast of the United States, and in 1825 he visited Europe briefly, taking numerous sketches and notes. Fisher was in the White Mountains with Thomas Doughty and other Boston artists prior to 1856. Working in a romantic tradition of the early Hudson River School, Fisher's landscapes were sometimes imaginary scenes and often featured animal as well as human forms.

Photo Credit
Courtesy of Del Fillmore
Signatures
References
New Hampshire Scenery