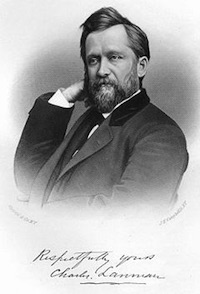 Charles F. Lanman was born in Monroe, Michigan in 1819.
He studied engraving with Asher B. Durand, and was also influenced by Thomas Cole, John F. Kensett, and Frederic Church.
After studying at Plymouth Academy in Norwich, Massachusetts, he worked from 1836 to 1845 in the East India mercantile house in New York City while also working as an artist. He then spent several years as a journalist in Michigan, Ohio, and New York City before settling in Washington, D.C. about 1848. In Washington he pursued a literary career, writing Letters from a Landscape Painter in 1845.
He continued to paint, taking trips to various regions of the United States. He corresponded regularly with the artist William Sidney Mount.
He was an Associate in the National Academy where he exhibited in 1873, 1880-1884, and 1888. He also exhibited at the Brooklyn Art Association, the American Art Union, and the Washington Art Association.
He died in 1895 in Washington, D.C.
Reference
Who Was Who in American Art